Education Programming
Enjoy programs for adults and children throughout the year at Johnson House. Fun, interactive education-based options offer meaningful learning experiences.   Keep checking the events page on this website for new developments in adult education programming. Interested? Call 215-438-1768.
Emerging Leaders Training Program – is a 10- week capacity building program for community practitioners, ages 18 – 30. Hosted by our Center for Social Advocacy, this program is led by community-building practitioners and builds their leadership skills. Emerging leaders represent the "next" generation that can lead meaningful change in communities of color; strengthens the capacity of young practitioners and elevates their voices and influence in Germantown. Offered by request only, this program requires an application.  Contact us!
Philadelphia Juneteenth Festival – Celebrates the anniversary of Juneteenth, the passage and ratification of the 13th Amendment to the US Constitution that commemorates the legal ending of slavery America.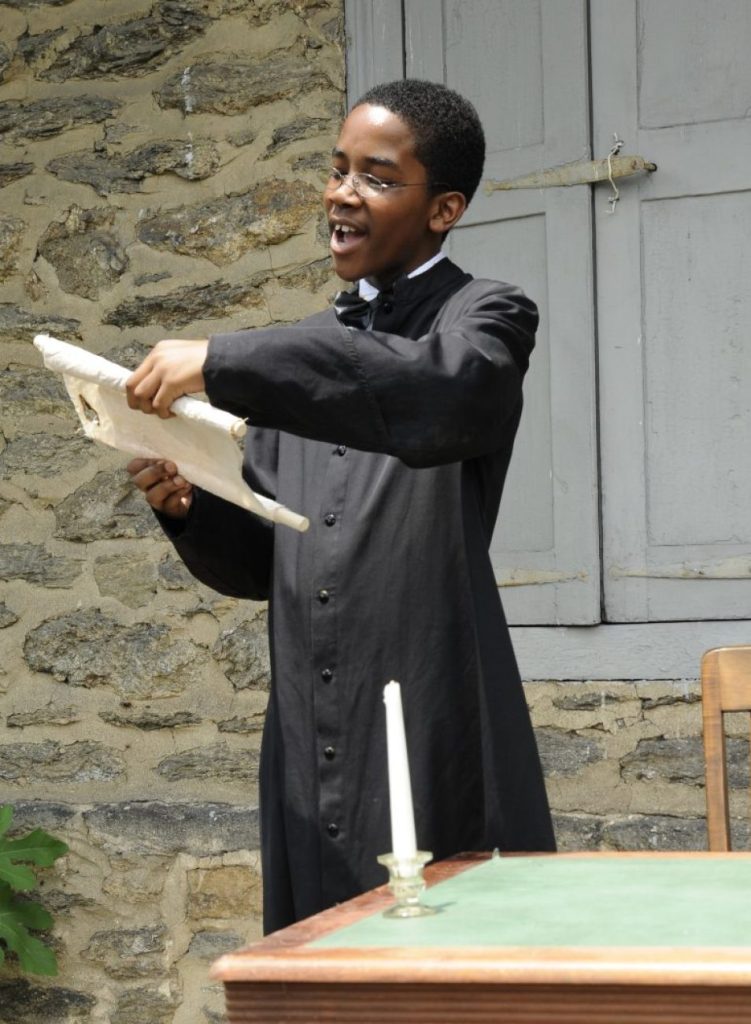 Hidden Collections Initiative for Pennsylvania Small Archival Repositories
Johnson House is a participant in the Historical Society of Pennsylvania's Hidden Collections Initiative for Pennsylvania Small Archival Repositories (HCI-PSAR).  The goal of the HCI-PSAR project is to make better known and more accessible the important but often "hidden" archival collections in small historical repositories in the Philadelphia Region.  Our archival holdings span several linear feet and date from 1794 to the end of the 20th century.  Significant holdings relate to former occupants of the House:  the Johnson Family, a Quaker family of staunch abolitionists; and the Woman's Club of Germantown, which owned the house from 1917-1982 and participated in the social, civic, educational, and philanthropic life of Germantown.  Visit:  http://dla.library.upenn.edu/dla/pacscl/index.html
Working & Walking Together UBUNTU Summer Camp Tours
Johnson House Historic Site and Germantown Mennonite Historic Trust collaborated to develop and pilot this special tour in the summer of 2010.  The tour is available by special request only.  The summer camp offers interactive group activities for students to learn how Germantown residents worked together – from the 1600s when early settlers established the community – to the 1800s when the Underground Railroad was established by brave abolitionists (black, white, free, enslaved) who joined forces to abolish slavery and transformed Johnson House into a "beacon of hope".  UBUNTU draws students from various summer camps to visit Germantown Mennonite Historic Trust and Johnson House Historic Site. Students participate in activities that will be used to build a monument representing the steps taken by enslaved Africans on the long harsh journey they endured as they traveled the Underground Railroad toward freedom.  Click here to learn more about the program.
History Hunters Youth Reporter Program
Johnson House Historic Site is one of five museum sites that participate in the curriculum-based History Hunters Youth Reporter program.  History Hunters is an opportunity for Philadelphia 4th and 5th-grade elementary public-school students to explore Germantown history through its amazing collection of house museums. To learn more visit: www.historyhunters.org
You can learn more about the Underground Railroad from the links below:
National Geographic Underground Railroad for Kids
PBS African American World for Kids
Pennsylvania Hall: Find more info at Africans in America by PBS or at Blackpast.org
William Still: Find more information at Sparticus Educational
Harriet Tubman: Find more information at Africans in America by PBS  or  Harriettubmanbiography.com
 History Hunter' Youth Reporter Project/Johnson House
History Hunters Johnson House Virtual Tour on YouTube
Global Philadelphia Heritage Story time: MLK and Johnson House
List of Underground Rail Road Sites in America From NPR