September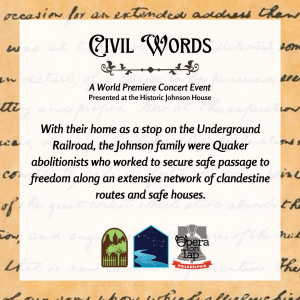 CIVIL WORDS: A World Premiere Concert Event
Presented at Johnson House Historic Site
In partnership with Opera On Tap Philadelphia & Historic Germantown
As an Underground Railroad Station and House Museum, the Johnson House Historic Site is one of Philadelphia's few accessible, intact historic sites that is open for tours. The Johnson family were Quaker abolitionists who worked with other European Americans and African Americans, both free and enslaved, to secure safe passage to freedom along the extensive network of clandestine routes and safe houses.
This remarkable site is a vital, living link to our American history, and it was specially chosen as the concert venue for this presentation due to its historical significance. Although freedom is something that can be easily taken for granted in our modern era, we must consider the cost of that freedom – and the myriad lives that were lost and changed as a result of the American political climate during this pivotal time.
Performances
Saturday, September 17, 2022, 7:00 pm – 8:00 pm
Sunday, September 18, 2022, 3 pm – 4:30 pm.