Visit the Johnson House, located at 6306 Germantown Avenue, Philadelphia, PA, 19144, is easily accessible by public transportation. The SEPTA bus #23 stops right at our corner.
Explore the lives of men and women – black and white, free and enslaved who labored for the freedom of their fellow man; intentionally breaking unjust laws in the process.
Trace the paths enslaved Africans traveled to obtain their freedom. Try to grasp their struggles to be accepted as full human beings, and citizens.
Journey through history and become inspired as you envision the circumstances of a bygone era. Imagine the heroes that shaped these times. Reclaim the past and embrace the knowledge you've gathered; then allow this new awareness to guide you into the future.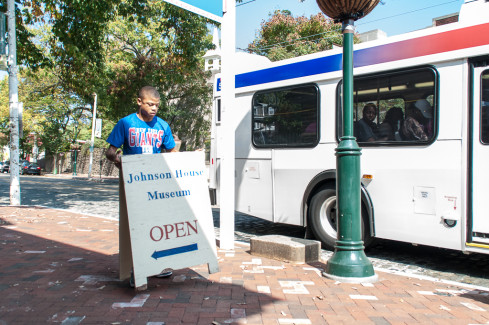 IMPORTANT COVID-19 UPDATE
After reopening on September 11, 2020 and allowing limited Saturday tours, Johnson House Historic Site regretfully informs its supporters and the general public that no future tours will be conducted until further notice. This decision comes after Mayor Kenney's announcement to roll back restrictions that were put in place during last spring's COVID-19 surge. This roll back includes museums. Restrictions will go into effect Friday, November 20, 2020.
We will keep you posted as events change.